Report function currently not working. Please use comment section to report a problem.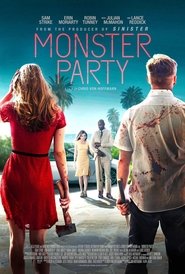 Monster Party
Three teenage thieves infiltrate a mansion dinner party, unaware that it is secretly being hosted by a serial killer cult for the social elite.
Duration: 1h 29min
Quality: HD
Release: 2018
HD
Mayhem
HD
Ghostland
HD
The Beyond
The Beyond
HD
Set in 2019, The Beyond chronicles the groundbreaking mission which sent astronauts – modified with advanced robotics, through a newly discovered wormhole known as the Void. When the mission returns…
HD
A Quiet Place
A Quiet Place
HD
A family is forced to live in silence while hiding from creatures that hunt by sound. Advertisements
HD
The Domestics
CAM
Ghost Stories
HD
Hell House LLC II: The Abaddon Hotel
Hell House LLC II: The Abaddon Hotel
HD
The sequel picks up eight years since the opening night tragedy of HELL HOUSE LLC and still many unanswered questions remain. Thanks to an anonymous tip, an investigative journalist is…
HD
All Light Will End
HD
Veronica
Veronica
HD
Madrid, 1990s. After making a Ouija with friends, a teenager is besieged by dangerous supernatural presences that threaten to harm her whole family. Inspired by terrifying police files never solved….
HD
Lasso
HD
Down a Dark Hall
Down a Dark Hall
HD
Kit, a troubled girl, is sent to the exclusive Blackwood boarding school, where she discovers that only other four female students have been admitted to learn the four pillars of…
HD
Devil's Tree: Rooted Evil
Devil's Tree: Rooted Evil
HD
Inspired by true events, The Devils Tree follows Samantha, a college student studying journalism, who needs to finish her thesis with one last breaking news story. Along with her friend…